I can't think of anything more fun
(and yes slightly random)
than a little game action on this Tuesday morning. Why? Well, our good blog buddy
Lauren over at Our Crazy Ever After
thought it'd make for a fun kind of linky party for the blog world- yep, it's a big ol'
Two Truths and a Lie Party!
So whether you are or aren't a blogger, you can play! It'll be a fun way to get to know each other... ya know what I mean, we might find out some random connections :)
Now, if you read our blog you might now a wee-bit about Alex and I, but I know there's one story we haven't shared at all yet
.
So if you are up for the challenge, can you spot the lie?
Game on, it's story time!
During college, Alex and I worked at a lovely jewelry store chain that is in almost every mall in America. Yes, we sold mall jewels -but- at different mall locations. On an unsuspecting day, my store was short staffed and they called in Alex for help to cover breaks at my store location. Upon meeting Alex, I was intrigued but also confused. He was wearing a nice suit & tie combo
(I love a sharp dressed man)
but he had these big ol' mutton chops on his face. It was like a southern gentleman/hillbilly kind of look. Anyway, conversation was slow but eventually Alex grew comfortable and turned on the chatter along with his humor. I thought maybe he was nervous and covered it with lots of jokes & silly behavior which included wearing a UPS shipping box on his head. In the end, I guess I was curious about him after that day because I kept thinking about him.
Yes, he was peculiar fellow but I guess that's why I liked him and still love him for that today. We ended up working together in the same store for about a year after that until our manager realized we weren't getting much work done when we were together and had to separate us :) only at work though, we were kind of inseparable after that.
So, that's how Alex and I met and the rest is blog history, LOL!
Now, can you spot the lie in the story???
There is a lot of truth and only one lie... what is it?!?!?
Be sure to play along too and link up a post here or just share something in the comments! Accept this silly game challenge, it'll be fun, promise!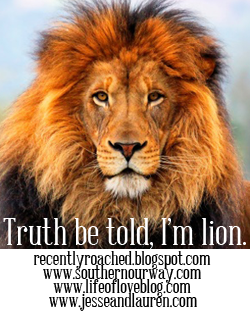 I will follow up on the truth and lie tomorrow, after that I have pics of the new faucet we installed in our upper bath to share!!! Hope you'll stop back by!